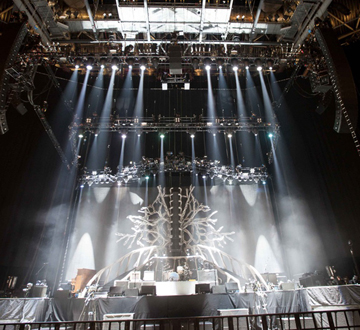 We are proud of our amazing and diverse touring clients who recognize that Skan offers the best audio equipment and personnel available. We work on every continent with services from simple dry-hire through to full audio packages for theatres, arenas and stadiums.

The Skan difference
From our base in Newbury, Skan services shows across the world. Through close relationships with the best freight companies, we are able to provide services where they are needed with "virtual" warehouses as required.
Skan has an enviable record for world-class audio. Our support and redundancy on the road is proven with many global tours. The resilience of our office and warehouse operations are also without equal.
We are equally at home in 415v and 208v locations. As well as extensive stocks of high-quality transformer systems, we stock "convertible, star-delta" power distros which allow us to utilise either voltage without the need of transformers.
Our packaging is immediately distinctive with blue cases for control systems, black for FOH reinforcement and carts available from 60u to 144u to suit all applications. Our packaging also improves touring efficiency being designed to fit in trucks, containers and lower-deck air-cargo.
We care about your audio and welcome the opportunity to work with people who understand the difference Skan can make to your show.
Case study: Biffy Clyro
Skan has been working with Scottish rock band Biffy Clyro and engineers Jonny Lucas (FOH) and Dan Speed (monitors) since 2010.
The current production manager, Paddy Hocken, previously worked for Skan and was happy to continue the excellent working relationship.
Through Paddy's excellent planning and the utilisation of two identical audio systems, the band have been able to complete a gruelling schedule encompassing headline slots on major European festivals and many shows in other parts of the world.
As well as the two identical audio systems in-use throughout 2013, Skan has provided a d&b J system for a UK arena tour and a third audio control package specifically tailored for fly-shows and club shows. With two Midas Pro2Cs, snake, splits, IEMs and all stage cables, the package came in at under 1T making it possible to fly everywhere whilst still offering over fifty inputs from stage.
Skan's system technician throughout this tour has been Joachim Dewulf.

Thank you for doing such a top rate job as ever, the tour was a great success and everyone is happy. Please pass on elbow's gratitude to all your team
Tom Piper
Tour Manager, Elbow