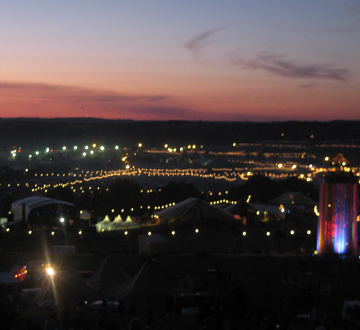 Skan is an established supplier to major festivals. With over twenty years experience, we have the systems and personnel to succeed in this specialist field.

Case study:
Download Festival
Working with Production Manager, Neil McDonald, and Live Nation, Skan has been the audio supplier to the second stage since 2005.
Whether in a 100m long tent, on flat tarmac or sloping grass, Skan has managed to deliver the solid sound rock fans expect.
In previous years, Skan has supplied a flip-flop pair of Midas XL4s at FOH and Midas H3000s on monitors. Still a good option for any festival and available from stock.
However, in 2014, the decision was made to switch to digital control in the form of Avid PROFILEs at FOH and Yamaha PM5D-RHs on monitors. This was still run as a flip-flop system with two consoles at each end but we had the improved functionality of being able to pre-load show files.
With a team of nine, Skan handles the audio, RF & power needs of around twelve bands per day in about as many hours. Change-overs are slick and efficient due to well-designed line-systems and stage infrastructure coupled with skilled crew.
Case study:
Glastonbury Festival
Skan has worked on every Glastonbury Festival since 1989 and is the sole audio supplier to what is now "The Other Stage".
With high-profile bands and an audience as large as many festival main-stages, this arena is a genuine alternative to the iconic Pyramid Stage. Working with Production Manager, Dick Tee, and his excellent team, Skan has provided the audio support for some legendary performances over the past two decades.
The arena has a peak capacity around 40,000 which is amply covered with a d&b J system – twenty per side on main-hangs and fourteen per side-hang with a mix of J-SUB and J-INFRA cabinets in the pit to provide a controlled, cardioid sub array offering the best possible listening experience across the arena.
The system has been accurately mapped by designer Matt Vickers to minimise off-site nuisance and we have far exceeded the license requirements with up to 15dB headroom at the off-site measuring point during a controlled propagation test. An exceptional achievement contributing to both audience enjoyment and that of guest FOH engineers.

Just wanted to drop you a quick line to say thanks to you and your team for a stirling job at Glastonbury this year.
Dick Tee
Production Manager